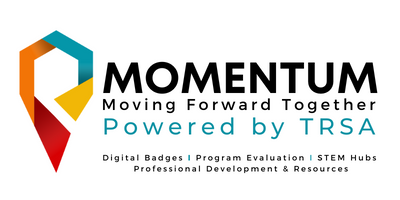 Tulsa Regional STEM Alliance (TRSA), in partnership with The Opportunity Project (The Opp), is excited to launch MOMENTUM, an ecosystem-wide movement to create equitable opportunities and systemic change in how youth across northeast Oklahoma experience science, technology, engineering, and math (STEM).
Traditional classrooms aren't the only places students gain valuable STEM skills. Youth are exposed to STEM both in and out of school, building confidence and mastery across a myriad of applications. Out-of-school time (OST) STEM programs are important pathways to learning, but experiential knowledge is not readily recognized by educational institutions or employers; no grades are given, and no transcripts are printed. No formal documentation means that students who have hands-on experience but without the typical credentials might be left behind for future STEM opportunities, especially youth from marginalized groups or under-resourced communities.
MOMENTUM, a play on the physics term used to quantify the motion of a moving body measured as a product of its mass and velocity, focuses on four components to elevate and increase the opportunities available to Tulsa-area youth:
Professional learning opportunities and resources focused on addressing ecosystem-wide gaps

Program evaluations and data sharing to ensure experiences meet high-quality standards

STEM Hubs, localized partnerships with focused resources

Digital badges that certify the skillsets and experiences students have had
In collaboration with The Opportunity Project's City of Learning platform, digital badges will provide a more detailed view of the student's learning journey. A long-standing tradition of scouting groups, badges visually represent a student's achievements and help them communicate their accomplishments as they pursue post-secondary and career pathways.
A Steering Committee, comprised of representatives from a variety of STEM Alliance members, will guide the work and expects the first of many digital STEM badges to be piloted with existing programs in the Spring of 2023.
Community Needs Survey

With the support of key partners, our new effort will galvanize stakeholders across the ecosystem to collectively advance this community strategy.

We are collecting feedback from cross-sector partners, educators, administrators, families, and youth to help inform the work and ensure equitable access for all.
Commitment Statements

We are collecting commitments from cross-sector partners to participate in this important alliance – to learn together, to collaborate, and to align and coordinate efforts behind shared goals.

Commitments include the following priorities:
Awareness and Value: Committing to helping create awareness of digital badges and current badge opportunities.
Understanding: Committing to providing access to data to establish a baseline of availability and impact.
Equity & Access: Committing to help develop new badges providing increased access to STEM opportunities.
High-Quality STEM Programming: Committing to establishing and working towards a common vision of high-quality STEM programming for our ecosystem.