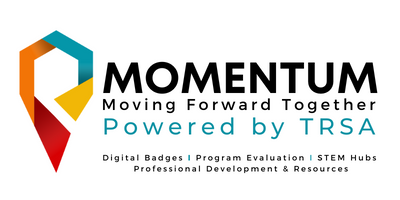 Tulsa Regional STEM Alliance (TRSA) and The Opportunity Project (The Opp) are excited to introduce MOMENTUM, a transformative initiative aimed at fostering equitable opportunities and driving systemic change in how young people in northeast Oklahoma engage with science, technology, engineering, and math (STEM).
While conventional classrooms play a crucial role in STEM education, it's essential to recognize that students acquire valuable STEM skills in various settings, both in and outside of school. They gain confidence and expertise across a wide range of STEM applications. Out-of-school time (OST) STEM programs serve as vital avenues for learning, but experiential knowledge often goes unrecognized by educational institutions and employers. These experiences lack formal grading and transcripts. As a result, students with hands-on STEM experience, particularly those from marginalized or underprivileged backgrounds, may miss out on future STEM opportunities.
MOMENTUM, inspired by the physics concept that quantifies the motion of an object based on its mass and velocity, focuses on four key components to expand and enhance opportunities for Tulsa-area youth:
Professional learning opportunities and resources focused on addressing ecosystem-wide gaps

Program evaluations and data sharing to ensure experiences meet high-quality standards

STEM Hubs, localized partnerships with focused resources

Digital badges that certify the skillsets and experiences students have had
In collaboration with The Opportunity Project's City of Learning platform, digital badges will provide a more detailed view of the student's learning journey. A long-standing tradition of scouting groups, badges visually represent a student's achievements and help them communicate their accomplishments as they pursue post-secondary and career pathways.
A Steering Committee, comprised of representatives from a variety of STEM Alliance members, will guide the work and expects the first of many digital STEM badges to be piloted with existing programs in the Spring of 2023.
Sign Up for Cohort #2

Are you an instructional or provider partner passionate about advancing STEM education and creating equitable opportunities for youth in northeast Oklahoma?

We invite you to join Cohort #2, now forming! Applications are due November 10, 2023.
Commitment Statements

We are collecting commitments from cross-sector partners to participate in this important alliance – to learn together, to collaborate, and to align and coordinate efforts behind shared goals.

Commitments include the following priorities:
Awareness and Value: Committing to helping create awareness of digital badges and current badge opportunities.
Understanding: Committing to providing access to data to establish a baseline of availability and impact.
Equity & Access: Committing to help develop new badges providing increased access to STEM opportunities.
High-Quality STEM Programming: Committing to establishing and working towards a common vision of high-quality STEM programming for our ecosystem.