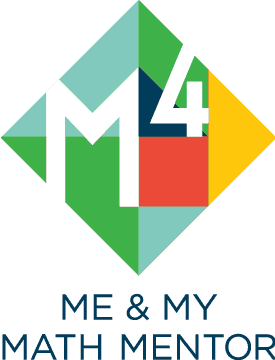 30 minutes a day. One day a week. A lifetime of difference.
---
---
THE NEED
Me & My Math Mentor (M4) gives you the chance to help students with their foundational basic math facts and set the stage for future STEM careers. Through playing math games that focus on math facts (addition, subtraction, division, and multiplication) students work with their mentor on their confidence and skills all with an emphasis on making math fun!
THE VISION
The purpose of Me & My Math Mentor is to make math fun for students so that they can boost their confidence in math skills, while also developing meaningful relationships with their peers and adults. M4 aims to provide a club-like environment, where students feel like they are a part of something and look forward to their session each week.
Math Mentors is not like your average tutoring service. Yes, our mentors work with students on their basic math skills that may be lacking, but we mostly serve as a way to bring joy to math and boost students' confidence in the subject. We play games to work on our skills. We emphasize making math fun and engaging for students.
What a session of programming looks like:
The school representative gets the Math Games Cart out for mentors.

Mentors check in with the school's front office.

Mentors are directed toward the area where programming will take place.

Mentors sign in on the sheet (This will be located with games at every session)

Mentors pick one of the games from the cart to play with students. (Student-to-mentor ratio being 4:1 at all times throughout the school year)

Students come in, sign in on the attendance sheet, and find a seat in the designated Math Mentor area.

The mentor begins the session by introducing themselves and asking each student in their group their name.

Mentors and students play the games available until the session is over. Sessions are typically 30-45 minutes, depending on the site.
2023 IN-PERSON OPPORTUNITIES
Moore Elementary
Cedar Ridge Elementary
Ellen Ochoa Elementary
Darnaby Elementary
Rosa Parks Elementary
Are you a company interested in adopting a school site? Reach out to volunteer@tulsastem.org.
"Math Mentors is a powerful and meaningful partnership for our students and the mentors. The program created an opportunity for full family engagement that lead to an overall increase in all academic areas. Parents were invested, students were highly engaged, and the classroom teachers loved the additional support."
– Lindsay Smith, Principal, Moore Elementary