Siegfried Space Week
October 9-14, 2023
Siegfried Space Week will include interactive space-themed activities for students that promote STEM identity and STEM career awareness regarding aviation and space exploration. Professional development workshops will also be available for educators.
Community Events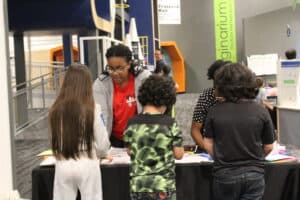 TRSA is excited to host two free community event experiences in collaboration with Discovery Lab. Families and student groups are invited to attend and participate in hands-on activities led by community partners, meet and greet with former NASA astronaut Col. Paul Lockhart, and even view a partial solar eclipse (Saturday only).
Thursday, October 12, 6-8pm
Registration is required for all attendees over two years old.
Reserve your tickets for 10/12
Saturday, October 14, 9:30am-12:30pm
This event is open to the public, and registration is NOT required. However, due to the limited capacity of the venue, attendees will need to reserve tickets to the Astronaut Chats at 9:45am and 10:45am.
Reserve tickets for the 10/14 Astronaut Chat
Interested in sponsoring this event in 2024?
Click to learn more
This program was made possible in part by our Mentoring Program Sponsor: