STEMtember
Join us for a month-long celebration of STEM!
Dive into the excitement of STEMtember, where innovation and discovery come alive!
Our "STEM Happens Here" Promotional Campaign is set to ignite a sense of belonging and the importance of STEM education. Join us as we spread the message that "STEM is Everywhere. STEM is Everyone. All are Welcome." through engaging events, media outreach, and community-wide participation. From the STEM-packed Family Fun at Gathering Place to dynamic gatherings like STEM in Motion and the inspiring STEMtember Teacher Appreciation, this year's lineup promises a month-long celebration that celebrates and elevates STEM across all ages and backgrounds.
---
"STEM Happens Here" Promotional Toolkit
We'll celebrate "STEM is Everywhere. STEM is Everyone. All are Welcome." through a community-wide, multi-platform initiative to promote a powerful message of belonging and the importance of STEM education. We will leverage a range of communication channels across our community, including yard signs, banners, social media, radio and TV ads, a partner media kit, and engaging events, to effectively reach diverse audiences and create a widespread impact.
We're looking for our partners to join our efforts and leverage their voices for this community-wide showcase of STEM!
Learn more
---
STEMtember Family Fun at Gathering Place: All Month Long!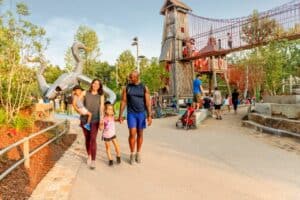 Families and youth of all ages have an opportunity to engage in STEM at Gathering Place throughout the month of September.
Families can pick up a free STEM in a Bag activity kit at Williams Lodge just inside Gathering Place! Each kit includes instructions in both English and Spanish and materials to complete a STEM activity. A new kit will be available every week.
This program is made possible in part by our sponsor, Oklahoma Natural Gas.
STEM Kit Calendar:
September 1st – 10th: Build a Bridge Challenge
September 11th – 17th: Backyard Biodiversity
September 18th – 24th: Designing Tessellations
September 25th – 30th: Investigating Sound: DIY Harmonica
Discover more STEM in a Bag activities
---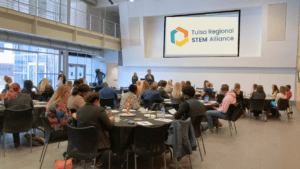 STEM in Motion Partner Breakfast Meeting: September 7
STEM in Motion is a convening of all STEM ecosystem partners that takes place quarterly. At our STEMtember event, we will treat partners to breakfast as we promote our STEMtember initiatives and unveil our new Tulsa Regional STEM Alliance partnership pathway. We will also provide updates about our digital badging initiative, then offer partners an opportunity to network, share ideas, and request insight and support from the Alliance.
---
Teacher Appreciation Night: September 28
During our Teacher Appreciation event at Heirloom Rustic Ales, we'll celebrate educators and show appreciation for their work providing STEM experiences across northeastern Oklahoma.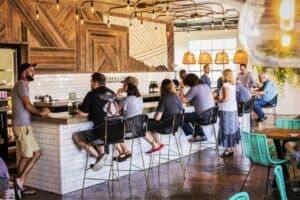 Teachers will be treated to food and craft beer while learning about the science behind the food and brewing industries. It's a fun, educational opportunity for teachers and our time to say THANK YOU as they kick off a new school year.
Teachers of all age groups and subjects are invited to explore the science of food and fermentation. Tour the brewery and learn about this from Heirloom's master brewer. Meet with community partners to learn about bringing food science to the classroom. Enjoy food, drinks (alcoholic and non), prizes, and more!
This event is free, but space is limited, and registration is required. Must be 21+, no plus ones. You may be asked to provide your school ID.
---
STEM Anytime!
At Tulsa Regional STEM Alliance, we know that sparking and sustaining interest in STEM careers requires strengthening a student's identity, academic capability, and access to engaging coursework taught by ambitious educators. We also know that school leaders, camp directors, and caregivers could help. That's why we are excited to make our STEM Experience curricula free to use to enrich your in-class, after-school, or vacation programs! Engage in STEM activities during STEMtember or anytime with TRSA's STEM Experience Playbook!