The core challenge at the center of the work of Tulsa Regional STEM Alliance is one of collaboration in pursuit of better opportunities and outcomes for youth. It might not be too far-fetched to suggest that effective collaboration across a community remains unsolved and is fundamental to developing education solutions in and out of school that lead to systemic change. Thankfully, we are a fortunate community that benefits from the vision, investment, and shared work of so many community members and organizations who began working more than a decade ago on the problem of harnessing our collective impact.
Thanks to early partners, like Tulsa Community College, who we spotlight this month, Tulsa Regional STEM Alliance has operated as a community collaboration based on the cutting edge of the nationwide (and now global) model known as STEM Ecosystems. It's this long-term, continuous investment and support for which I'm most grateful.
The ecosystem model values all partners – educators, youth, families, funders, providers, and employers – as entities that operate individually and cooperatively. We, as the convening partner in our community, have the great opportunity and responsibility to bring together those entities to focus our work, measure our outcomes, identify shared and unique needs, and solve these needs with innovations from within and across our community. And just as our team's values statement says, "Together, we create possibility," the members of our Alliance engage to do more together than we could alone.
Many opportunities are available to our community to advance access to quality STEM experiences as compared to a decade ago. As our ecosystem matures, new collaborations and emphases are showing up in ways that excite me. Perhaps most of all, Tulsa Regional STEM Alliance has been able to slowly shift our attention away from serving in a lead role on several events as our community partners have leveraged TRSA's STEM Experience Playbook, training opportunities, evaluation services, or grant funding. In the last year, the number of quality STEM experiences across our region has dramatically increased, and the capacity of our community partners is only expanding.
Partners like the Opportunity Project, Tulsa and Union Public Schools, Outdoor Classroom at Woodward Park, Global Gardens, Discovery Lab, and many more have all helped our ecosystem grow. Long-time funders like Charles and Lynn Schusterman Family Philanthropies, George Kaiser Family Foundation, Oklahoma Energy Resources Board (OERB), the Siegfried Family, Tulsa Area United Way, Tulsa Community College, Williams, and many others have invested in the infrastructure required to sustain and expand this ecosystem work. There's no doubt that TRSA is who we are with our allies, who are far too many to list here.
The power of our collective impact is not just in our work to inspire and prepare youth and strengthen our STEM teaching workforce. As a STEM ecosystem, we are also positioned to increase our reach and effectiveness by engaging in continuous improvement, creating awareness and visibility of STEM experiences for families and youth, and helping to expand the capacity of all our partners to set, pursue, and reach ambitious, inclusive, and equitable goals.
The journey of Tulsa Regional STEM Alliance has been marked by a steadfast commitment to collaboration and a shared vision of transforming education and opportunities for our youth. We've come a long way, and as we reflect on our progress, it's abundantly clear that our strength lies in the unity of our community. Together, we have expanded access to quality STEM experiences, empowered our partners, and created a lasting impact.
We are deeply grateful for the unwavering support of our dedicated allies, and we look forward to the continued evolution of our STEM ecosystem. As we move forward, let us remember that it is through our collective efforts, shared values, and the bonds we've forged that we can genuinely champion the cause of equitable, inclusive, and inspiring STEM education. Thank you for being an integral part of this incredible journey, and together, we will continue to shape a brighter future for our youth.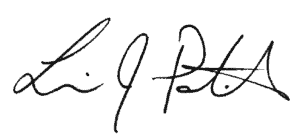 Levi Patrick
STEM is Everywhere | STEM is Everyone | All are Welcome