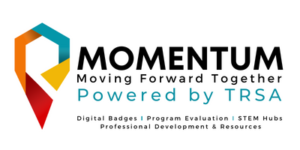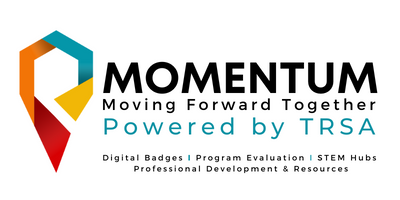 Emerging as a need from multiple community members, the new Collective Impact program called MOMENTUM is focused on providing evidence of skills earned by youth in the form of digital badges, formalized and impactful partnerships across our ecosystem, results-driven data and evaluation opportunities, and resources and funding to ensure STEM is everywhere.
The first phase of this program is to launch student STEM opportunities. These experiences and the skills developed during these experiences will be represented through a digital badge system focused on providing accessible and high-quality programming, developing well-understood digital badges valued by postsecondary and workforce partners, and a sustainable model for scaling, improving, and creating new wisdom from within our community. You can expect the first set of badges to be released in the summer of 2023!
We need YOU to gain MOMENTUM!
The Tulsa Regional STEM Alliance invites you to share your bold commitment(s) to advance STEM education in the Tulsa region. Please share how you and/or your organization will advance at least one of these priorities:
Awareness & Value: Committing to helping create awareness of digital badges and current badge opportunities.
Understanding: Committing to providing access to data to establish a baseline of availability and impact.
Equity & Access: Committing to help develop new badges providing increased access to STEM opportunities.
High-Quality STEM Programming: Committing to establishing and working towards a common vision of high-quality STEM programming for our ecosystem.
Make your commitment known!
Learn more