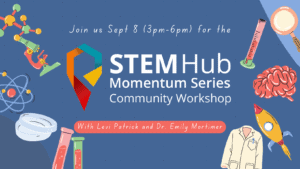 STEM is Everywhere | STEM is Everyone | All are Welcome
🚀 The STEM Hub Momentum Series brings powerful STEM content and connections to Alliance members so we can do more together to advance STEM opportunities across the Tulsa region.
🧠 All educators and community stakeholders are welcome to this first session focused on creating a strong common vision for STEM education. We'll be exploring the challenges and opportunities in front of Oklahoma schools and communities as we work to ensure all students have the opportunity to engage as problem-solvers. While STEM is everywhere, often our understandings of what STEM education looks like can vary tremendously. In this session, we'll level-set through a shared STEM learning experience and create a shared definition and vision that can serve as the foundation of future strategic planning that can support curriculum adoption, grant applications, local/state/federal funding decisions, and more! Come join us as we continue to build momentum toward a truly powerful STEM education system!
💰 Individuals and teams who attend will receive priority in future TRSA grants!
🪐 Space is limited, so register today!
Registration: bit.ly/STEMMomentum