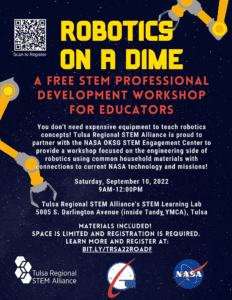 A FREE STEM Professional Development Workshop for Educators
You don't need expensive equipment to teach robotics concepts! Tulsa Regional STEM Alliance is proud to partner with the NASA OKSG STEM Engagement Center to provide a workshop focused on the engineering side of robotics using common household materials with connections to current NASA technology and missions!
Saturday, September 10, 2022
9AM-12PM
Tulsa Regional STEM Alliance's STEM Learning Lab
5005 S. Darlington Avenue (inside Tandy YMCA on 2nd floor), Tulsa
Materials included!
Space is limited and registration is required.
Learn more and register at: bit.ly/TRSA22RoaDF