Events Subject to Change
In order to ensure the health and safety of our community during the coronavirus (COVID-19) outbreak, we are reviewing our spring events. Please check the website and your emails often, as details are subject to change. Thank you for your understanding as we strive to provide broad, deep, and innovative STEM pathways for all students during this time.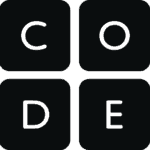 Whether you are new to teaching computer science or have experience teaching other CS courses, this professional development is designed to promote growth by providing space for you to become comfortable with curricular materials, CS content, and pedagogy. The program supports teachers with diverse teaching backgrounds as they prepare to teach either Computer Science Discoveries or Computer Science Principles (which can be taught as an AP course).
---
Computer Science Discoveries is an introductory computer science course that empowers students to create authentic artifacts and engage with computer science as a medium for creativity, communication, problem-solving, and fun. The curriculum is recommended for middle and high school students (grades 6-10) and can be taught either as a semester or full-year offering.
Computer Science Principles (can be taught as an AP course) is a higher-level introductory course for 9th-12th grade students that introduces students to the foundational concepts of computer science while challenging them to explore how computing and technology can impact the world. No computer science background is necessary for students and teachers.
Sponsor