Tulsa Regional STEM Alliance (TRSA) is hosting #STEMtember again this year, during the month of September. STEMtember celebrates the importance of STEM (Science, Technology, Engineering, and Mathematics) Education. TRSA is partnering with local businesses, schools, and community organizations to raise STEM awareness, create engaging STEM activities, and highlight the real -world examples of STEM in our community.
Tulsa Regional STEM Alliance believes "STEM is Everywhere. STEM is Everyone. All are welcome." This STEMtember, we hope you believe it, too!
STEM is EVERYWHERE
Join us for family fun at the Gathering Place during the month of September! Families can pick up a fun "STEM in a Bag" activity kit from The Lodge at the Gathering Place. A new kit will be available every week. These will be in both English and Spanish.
Keep your eyes peeled for brightly colored STEM yard signs at TRSA partner locations around town all month long!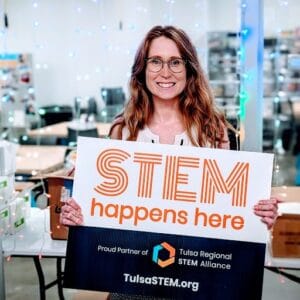 As you move across Green Country, think about the practical ways Science, Technology, Engineering, and Mathematics impact your life and our community.
STEM is EVERYONE
Teachers are important partners in making STEM relevant to our students and creating pathways of interest for STEM careers! TRSA is proud to celebrate our teachers by hosting a Teacher Appreciation Event in STEMtember. Teachers can learn about the science of Beer Brewing at Heirloom Rustic Ales on Thursday, September 28, from 5:00 pm to 8:30 pm. Join us for food, drinks, games, and giveaways.
The event is free and open to all teachers in the Tulsa-area, but registration is required.
ALL are WELCOME!
Whether you are in a classroom, running an after-school program, or are looking for STEM experiences for your friends or family, we encourage you to check out our STEM Experience Playbook. The STEM Experience Playbook is a free curriculum filled with engaging and fun activities to spark interest, enrich classroom learning, and deepen STEM knowledge for all ages!
TRSA will also sponsor field trips to the Gathering Place to provide opportunities for STEM experiences for students within North Tulsa STEM Hub.
To learn more about STEMtember activities, go to tulsastem.org.