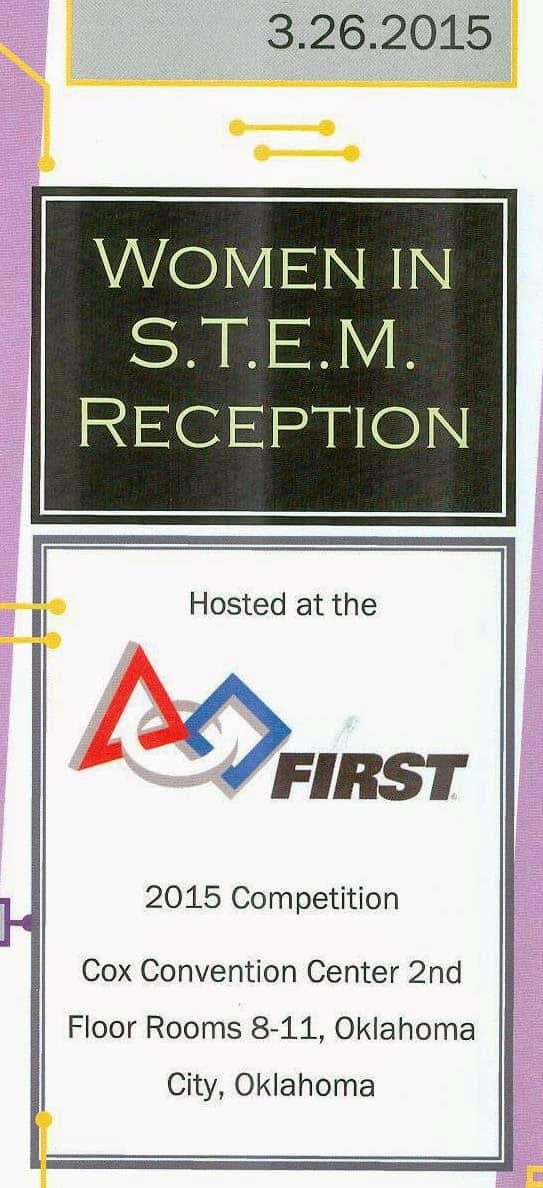 For Oklahoma FIRST Robotics Competition 2015, in which robotics teams from Arkansas, Kansas, Missouri, Texas and Oklahoma fought with brains, metal, and electronics, Oklahoma women engineers organized a Women In S.T.E.M. Reception.
Approximately 32 engineers came to table-mentor. Three made presentations, which showed how creative and challenging a future is ahead for women engineers.
On a smaller scale, this mentoring model can be hosted all over Oklahoma.
Beginning of the Reception
In March 2014,  Harold Holley, director of Oklahoma Robotics, asked the Society of Women Engineers  to host the reception. SWE invited the Oklahoma Engineering Foundation, Tulsa Engineering Foundation, and Tulsa Regional STEM Alliance to co-sponsor the first event last year. Harold, who had observed the event at the Texas Regional Competition, wanted the same interaction to happen in Oklahoma. Thus he talked to Barbara Wollmershauser.
Girls on FIRST Robotics Teams may not have many opportunities to meet women engineers. This special event provides contact, interaction, and inspiration.
Last year, 80 young robotics competitors and 31 women engineers enjoyed meeting.
Read more here: Boren Mentoring Initiative