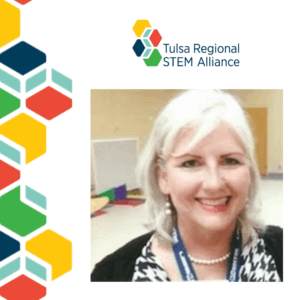 Tulsa Regional STEM Alliance (TRSA) is celebrating the career and accomplishments of Xan Black, the organization's long-time executive director, as she announces her retirement. Black, who has served at the helm of the organization since its inception in 2014, will step down in April 2021.
"Xan Black makes an indelible impression on others with her can-do attitude, positivity, encouragement and enthusiasm," said Mandy Monahan, president of Tulsa Flight Night. "A teacher, engineer and overcomer of education access barriers, she mobilizes quality STEM learning to reach every Oklahoma student, priming them and our state economy for skyrocketing success."
Black's impact on science, technology, engineering and math (STEM) education in Green Country is exponential. She has always believed STEM education should be accessible to all students from all backgrounds, and has set about making that happen. During her time at TRSA, Black has, along with her team reached more than 360,000 students, 4,200 teachers, and created a mentorship program with more than 900 mentors strong charged with increasing students' math fluency and socio-emotional skills. She also created strong partnerships with the Charles and Lynn Schusterman Foundation, and Cox Media Group, along with an ever-expanding network of schools and educators to further the organization's reach.
"It has been a dream come true to serve an organization that is deeply committed to serving children and families by building broad, deep and innovative STEM pathways for all students to access high-impact careers" said Black. "Our dedicated staff, volunteers and community partners around the region are working to advance the TRSA mission each and every day, ultimately getting all students STEM ready. I am proud and honored to have been a part of such an impactful organization."
Black will be active in supporting the transition to a new Executive Director. Learn more about TRSA and the position by clicking here.