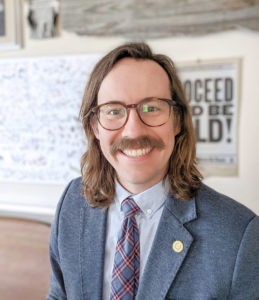 After an extensive search led by its Board of Directors, Tulsa Regional STEM Alliance (TRSA) is pleased to announce it has named Levi Patrick as its new executive director. TRSA is a nonprofit dedicated to building broad, deep and innovative pathways in science, technology, engineering and math (STEM) for all students to access high-impact STEM careers.
Patrick is a former TRSA board member and comes to the organization with a wealth of knowledge regarding the Oklahoma education system.
A 7th generation Oklahoman with experience as a teacher, instructional coach, and curriculum writer, Patrick most recently worked at the Oklahoma State Department of Education for more than eight years. During this time, Patrick served as the Director of Computer Science and Secondary Mathematics and Assistant Deputy Superintendent of Curriculum and Instruction.
Patrick holds his Bachelor's Degree in Mathematics Education from Oklahoma State University and his Master's Degree in Instructional and Academic Leadership from the University of Oklahoma.
Commenting on TRSA's selection, State Superintendent of Public Instruction Joy Hofmeister said, "The Tulsa region is gaining a champion for STEM education who has led our state in mathematics and computer science. His innovative approach has significantly impacted how our agency supports and promotes well-rounded education. We are grateful to Levi for his service to the State of Oklahoma, and we will look for him to continue his great work with TRSA."
While discussing TRSA's candidate choice, TRSA Board Chair Susan Crenshaw said, "Levi was selected for his collaboration with school systems across Oklahoma and other organizations nationally, as well as his management experience. With his experience, we expect his ability to convene and uniquely work with districts across our footprint will maximize our impact. He is a known champion for math education excellence and he is a visionary for how success in math can change the trajectory for long-term student success."
Patrick's appointment comes at an important moment for TRSA as it works to complete the next phase of its strategic plan. TRSA continues its vision of creating an abundance of diverse STEM talent to fuel a more globally competitive northeastern Oklahoma.
While commenting on his new role, Patrick said, "STEM is hope. When students are STEM-ready, they lead choice-filled lives. They see themselves as caretakers, creators, inventors, and nurturers. I cannot convey how excited my family and I are to be a part of the brilliant work so many have led before me to strengthen STEM education across northeastern Oklahoma and to serve as a model for the country."
Patrick will begin his new position on May 1, 2021.