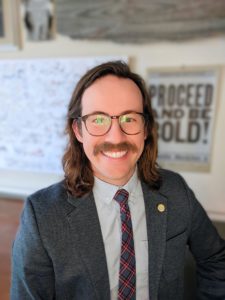 Levi Patrick, executive director for the Tulsa Regional STEM Alliance, will serve on the Leadership Coordinating Council, launched today under the umbrella of the STEM Learning Ecosystems Community of Practice (SLECoP).
As part of the LC2, Patrick will join leaders from the U.S., Mexico, Canada, and Israel, who will work for meaningful STEM opportunities for all. Members of the LC2 have expertise in areas such as business, K-12 and high education, out-of-school-time providers, museums, nonprofits, philanthropy and government.
"We are thrilled Levi was chosen to join the first LC2, which will guide the SLECoP. We look forward to the group's thought leadership, which will focus on best practices and learning opportunities to mobilize entire communities to work to improve STEM opportunities for all," said Jan Morrison, founder and CEO of the Teaching Institute of Excellence in STEM, the backbone organization supporting the SLECoP.
A seventh generation Oklahoman, Patrick joined Tulsa Regional STEM Alliance in May 2021 with experience as a teacher, instructional coach, and curriculum writer. He spent almost nine years at the Oklahoma State Department of Education, first serving as the Director of Computer Science and Secondary Mathematics then later as Assistant Deputy Superintendent of Curriculum and Instruction.
"Joining the LC2 underscores Tulsa Regional STEM Alliance's vision that a global ecosystem is critical to advancing STEM opportunities for students. This appointment is an acknowledgment that the work our community, our team, and our partners are doing is respected and valued as a nationwide model," said Patrick. "I look forward to promoting the development and use of evidence to drive quality, impactful experiences that prepare STEM-ready students."
LC2 members were selected based on their demonstrated leadership at the STEM Learning Ecosystem level with an understanding of the importance of STEM and its alignment with workforce and economic development.
About Tulsa Regional STEM Alliance
TRSA coordinates, strengthens, and directly provides opportunities, possibilities, and resources for educators and students in science, mathematics, engineering, and technology across the Tulsa region. By cultivating meaningful partnerships and pathways, educators are STEM-prepared and students are inspired and prepared to be STEM-ready.
High-resolution TRSA logo
Levi Patrick headshot
Levi Patrick bio
About the STEM Learning Ecosystems Community of Practice
STEM Learning Ecosystems encompass schools, community settings such as after-school and summer programs, science centers and museums, and informal experiences at home, businesses/industry, higher education including community colleges and in a variety of environments that together constitute a rich array of learning opportunities for young people. A STEM Learning Ecosystem harnesses the unique contributions of all these different settings in symbiosis to deliver STEM learning for all children.
STEM Learning Ecosystems unite all community stakeholders to ensure all students and people are engaged STEM learners who are competent and college and career-ready, that the educational system and its out-of-school time partners are equipped with the resources they need to engage, teach and develop STEM competency, and that communities thrive through a robust and competitive STEM skilled workforce. STEM Learning Ecosystems develop their knowledge, strengthen their persistence and nurture their sense of identity and belonging in STEM disciplines, and enable young people to connect what they learn in and out of school with real world learning opportunities, leading to STEM literacy, further education and careers.