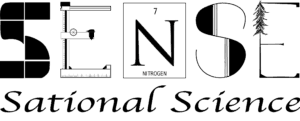 SENSEsational Science is turning 11! This long-standing professional development opportunity is open to PreK-12th grade educators in the Tulsa metro area. Spend your summer getting paid to visit some of the most exciting attractions and nature areas in Tulsa. You will make friends with fellow teachers excited to learn new ways to engage students in STEAM while meeting academic standards. The best part, you do not need to be a science teacher to attend! Actually, we encourage teachers from all content areas to apply. This workshop focuses on building community relationships while encouraging STEAM in the classroom.

If you've been through Year 1 of "SENSE," you are encouraged to apply again as a Year 2 member. Simply complete the application and indicate on the form in the space provided that you have previously attended. Year 2 members will have a different experience than Year 1.
Lunches are provided daily for all participants.
Dates:
Commitment Meeting: Thursday, May 7, 5pm-7pm
Summer Workshop Dates: June 1-5 and June 8-12 (Monday-Friday) 9am – 4pm unless noted otherwise
Follow Up Dates: TBA (multiple opportunities, generally in the fall and spring)
Expectations:
By the end of the workshop, all teachers must develop a lesson plan or school action plan they can implement the following school year. This lesson will be shared with other teachers at a spring follow up day.
All teachers must attend a commitment meeting in May, all sessions in June, and attend two Saturday follow-up programs during the school year. (Information regarding follow up days will be distributed on the first day of the workshop.)
Each teacher will work towards a common goal of developing and distributing applications for their students to extend lessons and integrate science, math and reading.
There will be outdoor sessions and moderate physical activity, including walking and hiking for moderate distances on uneven terrain.
To participate you must:
Hold a current Oklahoma Teaching Certification
Be a current PreK-12th grade teacher (1st year participants will be divided into grade bands for the duration of the workshop. 2nd year participants will be in a mixed group of PK-12th grade educators.)
Submit completed application by March 1, 2020
Be able to attend all classes at all sites
Be responsible for you transportation to and from all workshop locations
Submission of application does not guarantee a spot in the workshop. You will be notified of acceptance by e-mail in mid-March.
Upon completion of the program, each teacher will receive:
Stipend upon completion of workshop deliverables
First year participants will receive a personal iPad Mini for classroom use plus training on how to use it
The opportunity to build lasting relationships with Tulsa community partners
Visit Google Page