This month we are highlighting the incredible work of STEM:MIND, an afterschool program at Memorial Middle School led by Abraham Kamara. Learners participate in hands-on, minds-on STEM, including drones, flight simulation, and the development of a small-scale, dragster-style race car.
During the 2022 PEAR (Partnerships in Education and Resilience) data collection, STEM:MIND demonstrated positive change in all ten areas measured in the PEAR Common Instrument Suite self-reporting survey (see Figure 1). These positive changes in the pre to post-surveys indicate students left the program with a greater sense of STEM careers possible to them, a higher interest in STEM careers as a result of attending the program, and higher awareness of future activities they can participate in to advance their STEM knowledge and experience.
Figure 1. STEM:MIND Youth Reporting Percent Positive Change on CIS Survey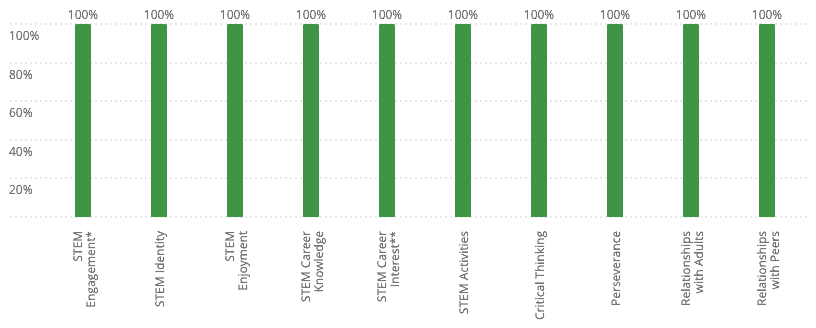 During an interview with PEAR, Abraham commented on the importance of "making school fun" as a critical component of positive change. "STEM:MIND intentionally creates an inclusive space and nurtures a sense of belonging for all students, with a particular focus on engaging LGBT students" (PEAR TRSA DNA Report, 2023). Kamara works to ensure that students have a sense of pride in their work, that their contributions help others, and that they see the value it brings to society, which he believes is essential to encouraging and supporting student growth in STEM.
STEM is more than just a passion for Kamara, it's his livelihood. He's been a STEM teacher at Memorial Middle School for 17 years and operates ACEBE, a nonprofit providing business education and resources to the people of Sub-Saharan Africa.
Memorial Middle School. (2022). About Us. https://memorialms.tulsaschools.org/about-us
Noam, G. G., Allen, P. J., Sonnert, G., & Sadler, P. M. (2020). The Common Instrument: An assessment to measure and communicate youth science engagement in out-of-school time. International Journal of Science Education, Part B, 10(4), 295–318. https://doi.org/10.1080/21548455.2020.1840644
Our Celebrated Partner Campaign is an initiative of the Tulsa Regional STEM Alliance to recognize the many ways that our partners drive change in our ecosystem. Do you know someone we should recognize? Email us at info@tulsastem.org and they could be our next celebrated partner!