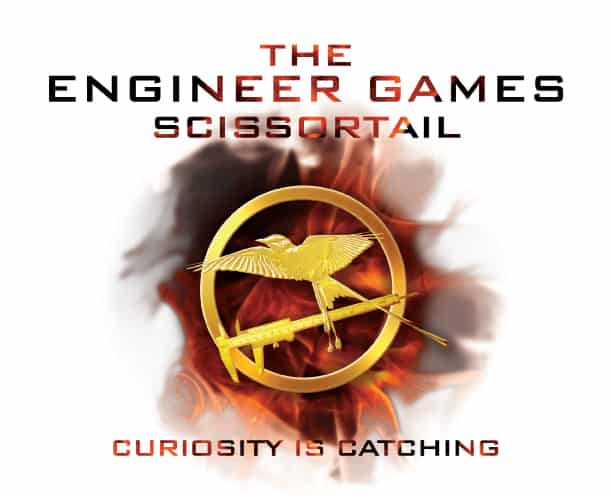 High school students compete to design, build, and solve engineering challenges in fun, competitive environment. In this event themed along the lines of the popular Hunger Games, students will work alongside STEM professionals who will help guide and mentor them through the challenges. The Engineer Games are sponsored by the Tulsa Regional Chamber.
Registration Closed
This event has passed. If you'd like to receive an email when the event details for 2019 have been updated, please sign up with the button below.
Notify Me When Event is Updated
Details / Rules:
THE DISTRICT: A total of 8 people will represent a District. This includes 4 Tributes, 1 Stylist, 2 Sponsors and 1 Professional Engineer to mentor the students during the competition. TRSA will provide the Mentors for the Competition.
When teachers apply, they may submit as many students as they'd like to be entered in the "reaping" or drawing for Tributes. The deadline to enter is Wednesday, October 17. The drawing of Tributes (for each teacher) will be Monday, October 22.
THE CHALLENGES: The Districts will compete in four challenges. The challenges are top secret and will not be revealed until competition day.
Roles:
TRIBUTES: A team of four students will be "reaped" or drawn from a list of students to represent their "district" or school in the Engineer Games. These students have primary responsibility for working with their engineering mentor to compete in all engineering challenges set before them during the Engineer Games. Consideration should be given to dividing roles among the tributes. (e.g. materials engineer, engineering manager, mechanical engineer, industrial engineer, etc.)
STYLIST: Each team of Tributes is assigned a Stylist to give them a memorable look for the Parade of Tributes. The Stylist comes up with coordinating accessories to tie the team together. The Stylists' creativity may give each team 25 points to each team with the overall best costume, most engineering themed costume, and best school spirit costume. In addition, the Stylist handles all Quality Control and Compliance Engineer responsibilities for their team during the Engineer Games.
Stylists may earn bonus style points for their District with any of the following:
Appearance of your District at Parade of Tributes

Appearance of your District at the Awards Ceremony

Adding style to your District's entry in any of the challenges
The 3 best Stylists of the Engineer Games will earn 1st, 2nd, and 3rd place ribbons!
SPONSORS: In the Engineer Games, Sponsors may send useful things to the Tributes during the games. Each team of Tributes may have two students from each school attend as Sponsors. During each competition, the sponsors attempt a mini competition of their own. If they accomplish it, they earn something that they can send to their team. (i.e. two extra cups for the tower competition, an extra minute for the K'nex competition, etc.)
Sponsored by