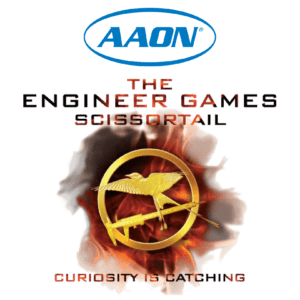 REGISTRATION IS CLOSED.
STAY TUNED FOR 2021 EVENT INFORMATION.
High school & middle school students across Green Country are challenged to develop solutions to real world problems in this Hunger Games themed virtual event. Limited Engineering Toolkits will be distributed for students to use to develop prototypes for their solutions. Students may then submit photos of their prototypes for a social media contest where they can earn prizes. There will be four challenge scenarios where students will develop a problem statement and then create a solution to the problem. This program is made possible by AAON.
Details:
Thanks to the generosity of AAON and our many wonderful volunteers, TRSA is able to offer Engineering Toolkits to students across the region. Through this program, middle and high school students get to design, build, and solve engineering challenges in a fun and competitive virtual environment.
Each student kit general prototyping materials to spark kids creativity and help them design solutions to real-world problems.
Kits will be distributed in bundles of 30- ideal for classrooms, or in smaller quantities for select groups. Individuals are limited to requesting a maximum of 4 bundles (120 kits).
Contest & Prizes:
Students can submit their engineered solutions for a social media contest. Student submissions will be competing against others in their same challenge scenario and we'll announce a middle and high school winner in each.
Submission Requirements:
Students must submit their problem statement, their idea for a solution and an image of their prototype to be entered into the contest. The best solution presented by one middle school student/team and one high school student/team in each challenge scenario will win an Amazon gift card. Students are welcome to create a presentation or marketing collateral to share more details about their ideas. This could include a flyer, a video, a slide deck, etc.
Engineer Design Process
The engineering design process is a series of steps that guides engineering teams as we solve problems. The design process is iterative, meaning that we repeat the steps as many times as needed, making improvements along the way as we learn from failure and uncover new design possibilities to arrive at great solutions.
Sponsored by