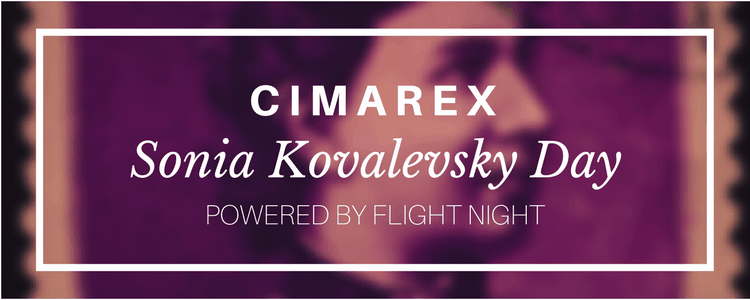 The Cimarex Sonia Kovalevsky Day is an all day, all girls, all math event!
Join us as we inspire girls in middle and high school to pursue math education! Sonia Kovalevsky Day is designed to empower the next generation of female mathematicians, scientists, engineers, and innovators. In addition to the event for girls, teachers may participate in a special professional development opportunity.
Sonia Kovalevsky Day is led by Cimarex Energy, CASIO, math faculty from The University of Tulsa, and Tulsa Community College.
It is sponsored by Cimarex Energy, Flight Night, and Tulsa Community College.
---
Friday, February 2, 2018
Registration: 8:30-9:15
Event: 9:30 am-1:30 pm
TCC Northeast Campus
3727 E Apache St.
Tulsa, OK 74115
Contact: Jaime Christensen
Jaime.Christensen@TulsaSTEM.org
918-779-4910

---
Event full
Registration for the Cimarex Sonia Kovalevsky Day is full! All additional applications will be added to the event wait list.
---
EVENT DETAILS
The event will include:
Two morning sessions
Lunch with speaker panel and college recruiter tables
One afternoon session
There will be around twelve session options for students to attend. Some of these are specificly geared towards middle school or high school students. Each session will last around 50 minutes.
During the event, students will follow a pre-assigned schedule. Each schedule will rotate through three sessions.
While in the lunch session, students will hear from a panel of women in mathematics. Additionally, they will have a chance to visit with area college recruiters.
We also have professional development sessions during each rotation for teachers to attend.
Student Sessions
The Power Behind the Math!
Tommy Henderson – TCC
This session will focus on electrical power. Students will discover the math behind the calculation of power used in the home to how much power to propel a person to 100 MPH in 6 seconds. Includes application, interactivities, and demo.
S1 – HS/MS
Immunology and Mathematics
Martha Parrott & Sallie Ruskoski – NSU
This session will focus on immunology and will demonstrate connections between immunology and mathematics.
S2 – HS/MS
Communicating Like Computers:
Binary Math and Analog Waves
David Drosdoff & Glenn Jones – TCC
Through games and activities, learn how to count and store information using ones and zeroes in the same manner as computers and smartphones, then create and observe analog waves used to transmit information wirelessly through air and space.
S1, S2 – MS/HS
Polar Play!
Brena Bellovich – TCC
Polar coordinates provide a fun form of graphing in 2 dimensions. You may have seen polar graphs of circles, lemniscates, and roses in a textbook, but there are so many other amazing graphs. Come check out the hippopede, scarabaeus, and quadrifolium!
S3 – HS
Uber Math
Donna Farrior – TU
Enter the geometric world of Uber, Lyft, and regular taxicab drivers. What happens to what we know about geometry when we have to stay on a grid of streets?
S1, S2, S3 – HS
How Nuclear Reaction Decays Using Skittles
Kathy Pursley – TCC
A skittles graphing lab which shows how a nuclear reaction or any first order reaction decays using graphing calculators.
Graphing calculators needed.
S1, S2, S3 – HS
Just how many germs are in that dirt?
Neil Enis – TCC
The instructor will demonstrate how a soil sample is diluted, then students will practice spreading some diluted soil material on Petri plates. Students will see actual plates with real bacteria from soil samples (sealed closed for safety) so they can see "germs." The instructor will then guide the students through the process of counting colonies and doing the math needed to determine the number of cells in the original soil sample.
S1, S2, S3 – MS
Fold Me This!
David Stacey & Rita Miller – STARBASE
No, girls, it has nothing to do with the laundry! So come on, join us in creating origami structures using angles and symmetry! Learning and fun all in one!
S1, S2, S3 – HS/MS
Patterns in Pascal's Triangle
Marilyn Howard – TU
This will be a fun session with a famous triangle that has been around for centuries. Pascal's Triangle was named after Blaise Pascal (1623-1662) because he discovered so many patterns in the triangle, even though it had been around long before he was born! We will discover how the triangle is constructed, creating part of it ourselves. It will be interesting to see how many different patterns that you can find by just looking at the rows and columns, summing certain numbers, and coloring multiples of a given number, such as two. You will be amazed! You may even notice the same pattern in more than one way. Pascal's Triangle has intrigued students for many, many years. Join us to see why!
S1, S2, S3 – MS
Cypher: Code Talking
Anne Fischer – TCC
Ever wanted to talk in code or decipher a hidden message? Cyphers have existed for a very long time as a way to communicate with hidden messages. This session will explore ciphers, and you will get a chance to solve or write a hidden message.
S1, S2, S3 – HS/MS
Let's Be a Data Scientist
Elvena Fong – OSU
Ever wanted to be a data scientist? Did you know that with Microsoft Excel, you can run quick analyses and build beautiful charts and graphs? Come and learn about the field of data analytics as we explore a set of health data together.
S1, S2, S3 – MS/HS
Bear Essentials Pharmaceuticals:
Math in the Science Lab
Dusti Sloan – TCC & Janice Airhart – TCC OK-INBRE
As a laboratory scientist at a pharmaceutical company, you will utilize math to calculate recipes for making a gummy vitamin called Bear Essentials. After this session, the student will be able to: Perform calculations commonly used in the laboratory, Prepare laboratory solutions, and Utilize tools of biotechnology.
S1, S2, S3 – HS
Mathematics of Cake Slicing
Kim Adams – TU
S1, S2, S3 – MS
TBA – Brena Bellovich TCC
Professional Development Sessions – Optional for teachers
Introduction to DESMOS
John Story – TCC
Teacher PD for the use of DESMOS in the classroom as an interactive teaching tool for mathematics.
S1 or S3
The Power behind the Math!
Tommy Henderson – TCC
This session focusses on electrical power. Teachers will explore the math behind the calculation of power used in the home to how much power to propel a person to 100 MPH in 6 seconds. Includes application, interactivities, and demo.
S2
TBA – Texas Instruments
Register
Event full
Registration for the Cimarex Sonia Kovalevsky Day is full! All additional applications will be added to the event wait list. REGISTER